Dr. Antonios Karagiorgos
"As a member of the Falmouth Dental Arts healthcare team, I look forward to serving this community by treating each individual with respect, dignity, empathy, and humanity."
Dr. Karagiorgos, DMD, grew up in the greater Boston area, but established a connection with Maine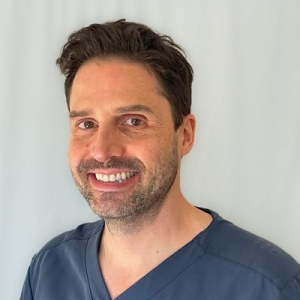 ​ early on: "When I was in high school, I remember coming up to visit Maine and the seacoast with my family on the weekends." From high school he went on to graduate from Northeastern University with a Bachelor of Science in Civil Engineering.
While he went on to work as a structural engineer, Dr. K ultimately decided it was not the best field for him. So he took some time to figure out what that field might be. During this time he worked as a project manager for the Olympic and Paralympic Summer Games in Athens, Greece in 2004. When he returned to the US he became more interested in dentistry and enrolled in classes to prepare to apply to dental school. This path led him to become an assistant in the oral surgery department at Tufts University School of Dental Medicine, where he was later welcomed as a student and earned his doctoral degree in dentistry.
Since graduating as a general dentist, Dr. K has worked as an associate at Caring Hands of Maine in Ellsworth, at CS Maller, DMD, in Bar Harbor, and at Kennebec Valley Family Dentistry. In his dedication to making a visit to the dentist comfortable for even the most apprehensive and anxious patients, Dr. K is trained in providing I.V. sedation dentistry. "I want my patients' experiences here at FDA to feel more like going to visit friends while having some dentistry done at the same time. Myself – and the rest of the team here at FDA – want to make going to the dentist fun."
In 2015, Dr. K was awarded the American Association of Oral Biologists Award. He has volunteered for Give Kids a Smile, a nonprofit that provides free oral health services for those in need, and Bridge Over Troubled Waters, an organization that supports homeless and high-risk youth. He is also fluent in Greek and French and can converse in Spanish, Italian, and Portuguese.
When not practicing dentistry you might catch him at the gym or see him with his wife Ella and daughter Rhea at Payson Park playing with Roux, their one year old Aussie-doodle. Dr. K encourages patients to ask him about cycling when they visit. He loves to spend time in the kitchen and often tries out new recipes on the staff here at FDA.
Dr. Brunacini describes Dr. K as "a sincere and compassionate clinician who brings a comprehensive approach to dentistry."
We are here to help! To book an appointment or for any question, please contact us. 
Address
168 U.S. Route 1
Falmouth, ME 04105